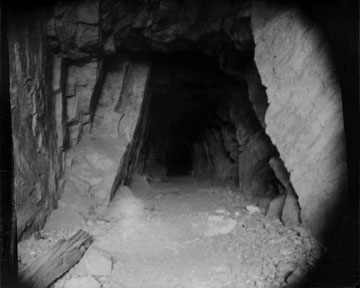 St. Louis Mine
/Ceremonial Cave
St. Louis Mine/Ceremonial Cave
ASA: 100
LIGHT: .6
EXPOSURE: 40 min.
with 30 signal flare fireworks lit for 11 sec. intervals to provide flash lighting.
June 20, 2003, 5:30pm,
between Searchlight and Nelson, NV.
The dictionary defines a cave as an opening in the earth, and although this was once an active mine, it is now much more a cave, having been abandoned by the world of men. We lit an offering at the entrance here of dry brush, sage, tobacco and desert trumpet, and we could see the smoke moving in and out of the cave as we felt the earth breathing.
This place is alive with the breath of wind.
The St. Louis mine was dug out around 1900 in the search for precious minerals. Now it is a lonely and sacred place, a place one can come to for solitude and communion with the earth. There is a passageway inside and to the north, where you can sit in total darkness and total stillness. To walk toward the darkness is to face the unknown, the nameless. In the darkness, the body gradually becomes calm, the mind less scattered. That which is important comes to the surface; that which is not recedes. To walk out of that darkness and into the dimness and the gray and then into the light is to be reborn into a new, tingly, sparkly-clean and grateful awareness of being in the world.